There's a reason they call these SWEATshirts
on
July 8, 2017
at
12:01 am
they gon fuuuuuuuuuuuuuuuuuuuuuuuuuuuuuuuuuuuuuuuuuuuuuck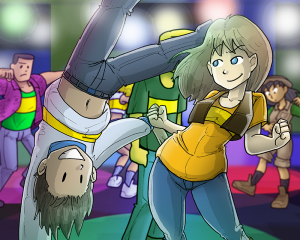 I liked this storyline!  I still like it.  Even though it's an old storyline.  I guess it's still good.
At the time, it served as inspiration for another limited print, titled "Dance Dance."  I think it was called "Dance Dance" because there was a dance club in Batman Beyond (Return of the Joker?) that flashed the words "Dance" and "Dance" outside the building.  It's just fun to say Dance Dance.
While opening up the old file to resize it for today's update (specifically, to be a little larger to reflect modern computer monitor resolution), I noticed it was layered.  Let's go see what's back there.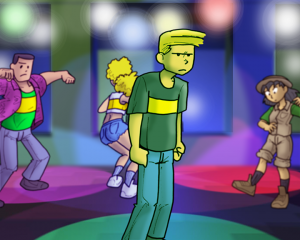 It's Joe and Daisy and Mike and Dina, also dancing!  Well, okay, Mike's not dancing.  Joe could stand to be dancing a little less.  Dina could stand to be dancing a little more.  But we can't get a great look at Daisy, so let's get rid of Mi– wait.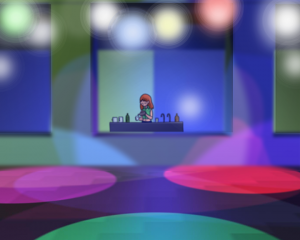 WHAT THE HELL THERE'S A BARTENDER BACK THERE
THE HELL IS THAT LAYER EVEN THERE FOR, YOU CAN'T EVEN SEE IT BEHIND JOYCE AND WALKY
WHAT PURPOSE DOES THIS SERVE, BEYOND LEAVING SOMETHING FOR ME TO FIND FIFTEEN YEARS LATER
anyway she's definitely going to be my next new dumbing of age character, that's for sure