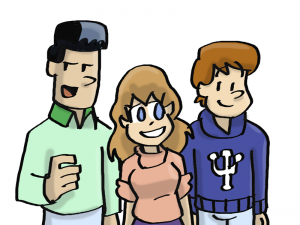 On September 10, 1997, Roomies! began publishing in Indiana University's Indiana Daily Student  newspaper.  Simultaneously, it was thrown up on the web onto a Geocities site, making it one of the earliest webcomics, long before the term "webcomic" itself even hit widespread use.
Since then, Roomies!, a college story, grew into the sci-fi epic It's Walky!, spun off into both Joyce and Walky! and the toy store antics of Shortpacked!.  Fifteen years later, the "Walkyverse" is still an ongoing, ever-expanding continuity.  This website will organize the stories from Roomies!, It's Walky!, and Joyce and Walky! into the best reading order, updating day by day, Monday through Sunday, from the beginning until the very end.
It's gonna take a while.