Who said we could hang this up?
on
September 10, 2017
at
12:01 am
okay go read Dumbing of Age first
are you back now?
all right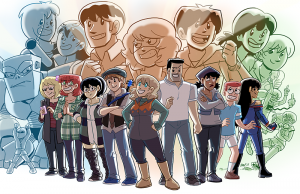 Look, I swear I didn't plan some sort of Twentieth Anniversary synchronized Mario Video Game theme between Dumbing of Age and this It's Walky! rerun today.  I swear to God.  I loaded this up right now, a few days until September 10th — and three months after drawing/uploading Dumbing of Age's strip for today — and I was like "… ooookay, I'm gonna have to swear this wasn't on purpose, aren't I."
ANYWAY, today marks the twentieth year of me doing webcomics for your pleasure.  If you want, there's a new limited print now available for purchase, which I will sign and number for you old-school-It's Walky! style, in the store.  It features the modern-day/Dumbiverse-version Roomies! folks front and center, with a smattering of important It's Walky!/Shortpacked!/Dumbing of Age folks to beef shit up.  I hope you enjoy!